Soft Hearts by Eric Lodin is the first installment in The Rett Swinson Mystery Series. 
About The Book:
Author: Eric Lodin.
Pages: 385.
Publisher: Self-published.
Release Date: May 22nd, 2021.
Series: Rett Swinson Mystery #1
Genre: Mystery Thriller.
A Halloween Murder, a Dragon Suspect-and a Neighborhood Secret.

Harriett Rett Swinson is trying to rebuild her life after a failed marriage when a group of Halloween trick-or-treaters discovers her neighbor, retired English professor and poet Wanda Hightower, dead on her porch, stabbed in the back and through the heart. Was her killer a random psychopath in search of blood on All Hallow's Eve-or one of the neighbors who helped with her lawn's makeover gone wrong? Wanda claimed to have dirt on nearly everyone in their Downtown Raleigh neighborhood, so the list of suspects is long.

Finding the killer will require Rett to reconstruct Wanda's turbulent past while weighing her growing attraction for Homicide Detective Darryl Schmidt against a desperate need for independence-and a growing feeling that an innocent man is being singled out by the police for the murder.

The first installment in the Rett Swinson Mystery Series, Soft Hearts explores how the fragile vulnerability of human beings can become their greatest strength

Soft Hearts by Eric Lodin is the first instalment in The Rett Swinson Mystery Series. Based on a Halloween murder mystery, this is the author's debut work.

The story begins on the Halloween day. Rett Swinson is trying to fix her life after a failed marriage, and then suddenly discovers that her neighbor, retired English professor Wanda Hightower is found dead on her porch, stabbed in the back and through the heart.
How Mysterious is it?
The core of the story, the mystery, is well planned. It is not a plot where just the investigation is kept in focus, ignoring all the other things. Here, the investigation is woven into Rett's normal life.
The climax is surprising, and the author cleverly ties all the clues to the storyline from start to finish. Every episode in the novel reveals something and keeps the reader interested.
The mystery moves at a steady pace and intensifies as we progress through the pages. Each chapter has some hints, but they do not allow you to predict who is responsible. Crazy! Isn't it?
How are the characters?
Rett, our primary character, is a great woman. She is brave, astute, witty, and sarcastic. She is not, however, without flaws.
As she discovers things, we discover her as well. She feels attached to Homicide Detective Darryl Schmidt, who is another important character. There is nothing fancy in her and that makes her a well-developed character.
Critical Social Issues:
I appreciate the fact that instead of being just a murder investigation story, the book is much more. It focuses on some very important issues, namely, racism, Mental Health, etc. And these terms are not just vaguely told to you. The author merged these issues as characters' and their daily lives.
Anything Special?
The book's finest feature is its artistic content. Art is the soul of this book.
Our main character Rett was a painter; her friend and another major character 'Otis' are sculptors; Wanda, the victim, was a poet. Lydia, another friend of Rett is a quilter.
ANOTHER MAJOR THING!
As mentioned earlier that Wanda was a poet and retired English professor, a major part of this book is dedicated to Romantic Poets (Coleridge, Keats, Shelley, etc.) A treat isn't it?
Many clues are disclosed through Wanda's and other poet's poetries. And there are many of these poems! So, poetry lovers, this book awaits you!
In a Nutshell:
What to expect?
🎃Halloween party in the beginning.
🔪Murder.
💊Drugs.
🧠Mental Health issues.
🚫Dysfunctional Marriage.
📜Poetry.
🎨Art.
👨🧔🏿Racism
✍️Amazing Writing.
---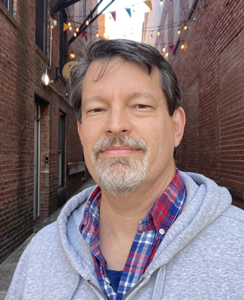 Author Eric Lodin has been playing with words on paper since the third grade. Over the years he has tinkered with several novels and screenplays, trying to improve his craft one sentence at a time. A fan of slapstick comedy, long runs, and most anything British, he lives in Raleigh, N.C., with his wife, children, and a mischievous Havanese named Duke. Soft Hearts: A Rett Swinson Mystery is his first mystery novel. 
---
---
Final Verdict:
This is worth your precious time. GIVE IT A READ. I can't wait to read the next part in the series!!!
---