Author Interview | Eric Lodin
Hi Guys!
Welcome to this interview with Debut Author Eric Lodin, who just released his book "Soft Hearts – A Rett Swinson Mystery" in May 2021.
The book is a Halloween murder mystery with lots of suspense.
I read the book before its release date, and I loved it. You can read my review here: Soft Hearts | Eric Lodin| Book Review.
So, now, let's jump into the conversation!
1. Could you first tell me a little about yourself and your debut book?
Sure. I'm a husband and father of three, who works a day job but likes to write in the mornings. I'm 50. I grew up writing essays and stories for school publications and right out of college worked as a newspaper and magazine journalist—which I quickly learned 90 percent reporting and only 10 percent writing. I've served in a number of different communications, marketing, and NGO jobs, but through it all, I have maintained my writing hobby. It grounds me. Some people do a morning swim, I do a morning write. I can actually write very quickly, about a thousand words an hour. That said, I'm a very social person, so it's good that writing doesn't consume much of my time. I love my family and my co-workers and really miss them if I don't interact with them every day. My boy is at that age in which he likes to play lots of sports, so it forces me to be active. Soft Hearts is different from other books I've written in that
A) it's a mystery (the other two were literary fiction) and
B) it's actually published, which means it went through tremendous revision and a scrutiny on the sentence level like nothing else I've ever written.
Now it's out there and, so far, I'm really delighted and humbled by the positive response.
2. How did you start this book, or to rephrase the question, How was 'Soft Hearts' born?
Really, it was a challenge I set for myself. I wanted to take a break from writing literary fiction to create something in a genre. I had read a number of mysteries and always liked puzzles, so I chose to attempt a whodunnit. I meant to keep it light-hearted, but as I got into the story, I really discovered a number of serious themes I wanted to explore. Art was a common theme that cropped up, and poetry paired quite naturally with that. Here were these characters showing me the most integral, vulnerable aspects of their personalities. Before I knew it, the book was fully exploring a person's desire to show—or hide, sometimes both at the same time—one's innermost feelings. It's the struggle that consumes Rett in the wake of a failed marriage. Should she explore those suppressed feelings or cover them up with alcohol? It's a struggle that most of us engage in every day. We can explore who we are and express that, or we can dilute and distract ourselves with any number of actual and metaphorical solvents.
3. You have incorporated a lot of artistic aspects into the book. What was your inspiration behind that?
I've always enjoyed art. I've been fortunate enough to step into a number of fantastic galleries and museums over the years. Back when I was a freelance journalist in the late 1990s, I spent a bit of time, too, with a number of Alabama folk artists who made art from found objects. Lonnie Holly was, for me, the most inspirational of that group. He actually lived on a piece of land that was overflowing with art he'd created. Sadly, the airport he lived near forced him to sell his land to the city. I was actually visiting him on his land in the final days before he had to move. It's like the guy created art 24/7. That kind of furious impulse to create beauty is something that demanded to be in Soft Hearts. You see that impulse with the characters of Otis Jones and Wo K, an impulse that challenges Rett, who buried her own artistry when she got married. A murder in her neighborhood startles her awake and begins a process of self-discovery.
4. How would you describe yourself as a reader?
One word: Random. Because I can convince myself that I'm interested in most things, I don't always read with much purpose. "Oh, that looks interesting. I'll give that a try," can result in an hour spent reading the phone book. That said, reading widely—similar to living widely—has helped me as a writer to imagine new possibilities for plot and character. I will say when I find a book by an author I really love, I read a lot of that author's books. Most recently, those authors are Joseph Kanon (who writes Cold War espionage fiction) and Eric Ambler (who basically invented the thriller and wrote from the 1930s till the 1980s). I'm also moving through Sandra Parshall's Rachel Goddard mystery series. All of these writers are masters at portraying a character's psychology—something I want continually to improve in my own writing. I guess you could say that these days I try to read for style in order to become a better writer.
5. When did you decide that you are going to create a series with Rett Swinson?
When I sat down to write my first whodunit, I really didn't have a protagonist yet. I decided on a locale first: Raleigh, the capital of my adopted state of North Carolina, a city that doesn't appear in literature very much. Within that city, I imagined a place that draws an eclectic clientele. That's how Needless Necessities was born. It's a nonprofit center that recycles goods for artists to use in their work. Then I needed a heroine who would be drawn to Needless Necessities, but perhaps against her own initial wishes. Maybe she used to be an artist but lost that part of herself. Maybe she was going through a sea change in her life—a divorce, say—and there's an opportunity for her either to hit rock bottom or pivot. So you can see how these things happen. Before you know it, you have a character who is very finely drawn, who has an intricate past. All because you prompted your imagination to add layer upon layer to just the smallest dot on the canvas.
6. Many of my viewers loved the cover of the book. Tell us something about how you decided on this cover or what was the idea behind it?
First of all, I found an illustrator, Bethany Minervino, who could make any cover idea look terrific. I listed for her a number of images that appear throughout the book, but foremost I had in mind one of them: a hummingbird. (A dragon was another top choice, but someone said it might look like a fantasy novel if we chose that.) Because one of the main characters is part of a quilting group, it made sense to try at least one quilted mock-up. Bethany was very generous to show me a number of different hummingbird treatments, but my tribe — that is, my family and friends—picked their favorite: the quilted bird. Adding the red threads that bleed into the title was a bit of inspiration. Also, if you look closely at the bird, there are a number of patterns that recall other aspects of the book's plot. You might call those 'Easter Eggs' of a sort. Overall, in the cover there is a tension between idyllic beauty and destructive death, which sort of typifies the cozy genre and the work of the Romantic poets, too. I think what really makes the cover shine, though, is Bethany's artistry. Ideas are great, but the execution is everything.
7. Tell us about the process of publishing your book.
A few years ago I tried to get one of my literary novels published by a traditional publisher, but I could find no interest. I mean, I queried close to a hundred agents, and there was no enthusiasm from any of them. By then I was pushing 50 and wondered if I'd ever get a book into print. Fortunately, at my college's 25th reunion I ran into an old friend from writing classes, Laura Durham, who had published several cozies to much acclaim (for example, she was a winner of the coveted Agatha Award for First Novel). She told me how she had actually purchased the rights of those initial books back from the publishers and started printing and promoting the titles herself, then had gone on to self-publish another half dozen more mysteries. She encouraged me to self-publish, too, so I just started to learn from her and from various online sources the steps for doing that. Along the way, I hired two editors, a cover artist, and a marketing consultant. In the end, I feel like my manuscript received even more tender-loving care than it would have gotten if I'd worked with a traditional publisher. Plus, I enjoy having more control—like with the cover—even if the promotion of the finished work is somewhat more of a challenge. That said, any bookstore in almost any country can still order my book from IngramSpark, even though it's self-published. And Amazon.com fulfills its purchases through Amazon KDP. I couldn't be happier with my decision at this point.
8. What are you currently working on? When can we hear about the second part of the series?
Thanks for asking! I'm deep into Book Two, which I hope to release in March 2022. In the follow-up, Rett investigates the death of a young, wealthy tech entrepreneur in Raleigh who had made enemies of an ex-girlfriend, his business partner, his estranged brother, the protege who has lived in his shadow, and a neighbor who resents his success. Meanwhile, Rett's romance with Detective Darryl is being tested. The detective isn't sure he likes competing with his girlfriend for clues, while Rett wonders if Darryl is really liberated enough to handle her blossoming artistic sensibility. I'm having a blast writing this book. It's going a lot quicker than the first, but I feel it's still just as textured and engaging as Soft Hearts. I'm committed to making every book in this series at least as good as the ones that came before it. Because I'm not beholden to a publisher's deadlines, I can make sure that happens.
9. There are a lot of beautiful mentions of Romantic poets and their works in the novel. What was your inspiration behind that? Are you a fan of poetry?
My love of poetry really stems from a love of words and the beauty they can make in the mind. Every now and then a novelist will get away with a beautiful sentence, but for the most part, beautiful language is left to poets. (If you are Gabriel Garcia Marquez, almost every sentence of yours is beautiful, but not every writer can keep that up. And for some readers it gets in the way of the story and plot.) I have not read poetry as widely as I would like, but when I was still a college undergraduate, I was fortunate to attend Oxford, England, a summer course taught by the distinguished poet Clare Brant. She allowed us to read deeply in the Romantics. That's where I met John Keats and was just mesmerized by this very young dude (he died when he was 29) who could write so voluptuously. Clare and I stayed friends after that summer and she's actually the one whose words (so generously on her part) stand-in for most of Wanda's poems in the book. I did read a thousand-page anthology of Romantic poetry looking for the bits and pieces that fit with the struggles Rett is experiencing in my book. It felt like a treasure hunt, and I relished living in that luxuriant language as I wrote Soft Hearts.
10. Can we expect more of Darryl and Rett in the upcoming part of this series?
Absolutely. I happen to think they are perfect for each other, but there are a LOT of things that challenge their relationship. She likes to solve crimes—and that's supposed to be HIS territory, right? Plus, she doesn't want to be tied to another man's agenda like she was with Allan, her ex-husband. So, it's not clear to me that Darryl and Rett can survive, though I hope they can. Be careful when you create characters—sometimes they develop minds of their own.
About The Author: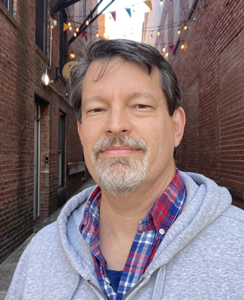 Author Eric Lodin has been playing with words on paper since the third grade. Over the years he has tinkered with several novels and screenplays, trying to improve his craft one sentence at a time. A fan of slapstick comedy, long runs, and most anything British, he lives in Raleigh, N.C., with his wife, children, and a mischievous Havanese named Duke. Soft Hearts: A Rett Swinson Mystery is his first mystery novel. 
---